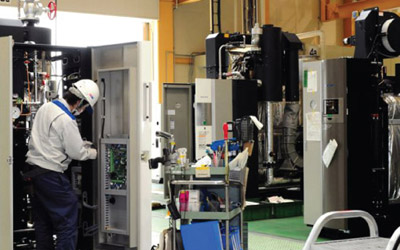 ZMP / ZM is a charged inspection and maintenance system unique to MIURA, providing regular inspection and maintenance by our service engineers. Our maintenance system gives our products even higher levels of safety and assurance.
Online Maintenance Starting with Failure Prediction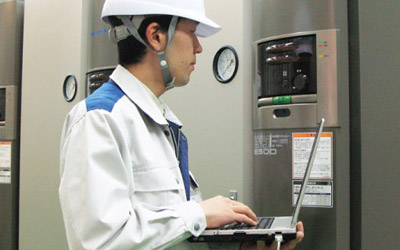 Aiming at enhancing our service systems, MIURA developed the first 24-hour online maintenance system seen in the boiler industry. Boilers using this artificial intelligence predict, evaluate, and diagnose their own operating issues and send this information to MIURA service stations via telecommunication lines.
(*service detail differs in each country)
Notification Function of
ZMP Maintenance System
ALARM
● Misfire
● Low water level
● Flame failure
● Electrode holder anomaly
● Wind pressure anomaly
● Gas pressure anomaly
● Exhaust gas temperature anomaly
● Overcurrent of feed pump
● Overcurrent of fan
● Solenoid valve leakage (Total 40 items)
NOTICE
● Scale adhesion
● Pump failure
● Degradation of flame sensor
● Blinding of strainer
● Backflow
● Air volume shortage for high fire
● Feed water shortage
● Blowing period
● Degradation of water level electrode
● Degradation of water softener (Total 54 items)
Online Maintenance System
When failures or other operation issues are reported, we investigate boiler status via data analysis or individual communication with our customers. We sometimes give instructions over telephone, or if repair is necessary, we take proper measures using our professional maintenance knowledge.
Maintenance service engineers collect operation data records every month. This data is then analyzed and a monthly report is submitted to the customer. We report the boiler operating status and other equipment status while giving advice if required.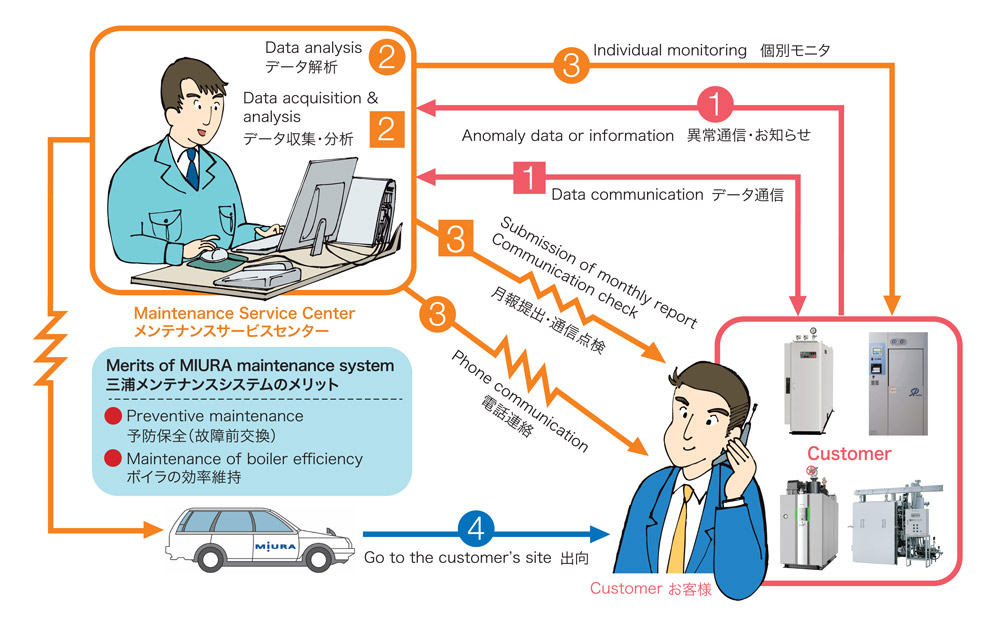 Individual Communication Monitor Screen
The monitor screen shows the changing status of the boiler in real time. Using this technology, our service engineers know the exact situation and information without visiting the boiler on-site. If the operation problem is clear and the customer can fix the problem, then MIURA engineers will give necessary advice over the telephone. We are determined to recover the boiler in a short time and to minimize the operation stop time.